Victims Forum demands apology over Stormont deal omission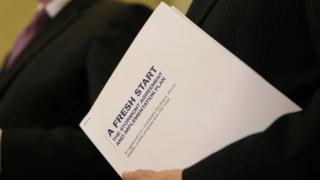 Northern Ireland's Victims Forum has demanded an apology over the failure of Stormont's latest political deal to address the legacy of the Troubles.
Forum members said they were "appalled" that victims were omitted, and added that "all trust and confidence has now been lost in local politicians".
They want an explanation from those who signed off on the deal between the DUP, Sinn Féin and UK and Irish governments.
The forum has demanded to meet the British and Irish prime ministers.
'Forgotten'
Stormont's latest deal saw both governments and Northern Ireland's two largest political parties agree on a document called 'A Fresh Start'.
It paved a way forward on some of the issues that had caused a series of crises at Stormont, including paramilitarism and welfare reform.
First Minister Peter Robinson said the agreement had been successful in "stabilising" the political institutions and announced his intention to step down within weeks.
However, the last 10 weeks of talks failed to break the deadlock over how to deal with legacy issues arising from the decades of violence known as the Troubles.
In a statement, the forum said the victims of the Troubles who had "suffered the most" had now been "forgotten about once again".
'Voice of victims'
Its members met Northern Ireland's Commissioner for Victims, Judith Thompson, on Thursday to discuss victims' omission from the deal.
They agreed that an urgent apology and explanation were necessary for the forum to "continue to function in any credible way for victims and survivors".
"The forum was established in law to be the voice of victims, however, they firmly believe that this voice is no longer being heard," the statement added.
The Victims and Survivors Forum was established in May 2012 and provides advice to Ms Thompson's office.
It has 22 members, 19 of whom have either been personally injured during the Troubles or lost a family member as a result of the conflict.