Shankill pensioner Josie Hamilton targeted by burglars again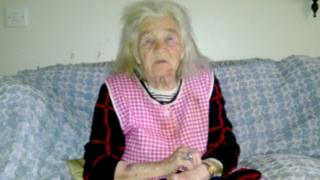 An elderly Belfast woman, who was beaten up by burglars four years ago, has been targeted again by a gang of men in her home.
Josie Hamilton, who is in her late 80s, lives off the Shankill Road.
It is believed that three men were involved in the latest burglary at her home at about 19:10 GMT Wednesday. They took money and a bank card.
The pensioner was not injured but left shaken by the incident.
In October 2011, the pensioner told the BBC she was "left black and blue" after two burglars attacked her.
'Shameful'
At the time, the Lower Shankill Community Association raised money for the victim to replace some of her stolen property, including a TV.
Community worker Ian McLaughlin, who knows Ms Hamilton and was involved in the fundraising four years ago, described the latest burglary as "shameful".
He said he believed it was the third time that she has been assaulted by men trying to steal from her.