Men used tyres as illegal sea defence in Bellarena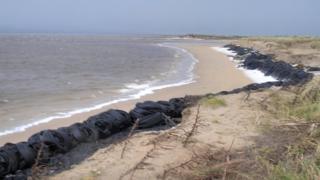 Two men discovered using thousands of tyres as an illegal sea defence have been given suspended sentences.
Officers from the Environment Agency found 20,000 tyres when they visited the site at Seacoast Road, Bellarena, near Limavady, last year.
The men did not have a licence to keep tyres or to use any material as sea defences.
They both pleaded guilty to one charge under waste legislation and one under the marine legislation.
Gregory Allen, 43, of Seacoast Road Bellarena and David McCullough, 68, of Old Antrim Road Ballymena, were sentenced to four months in prison, suspended for two years.
The tyres were found buried in and resting beside the shoreline of Lough Foyle.
A formal notice to remove the waste, sent to Mr Allen, was not complied with.
The site was owned by Mr Allen and rented by Mr McCullough.