Quarter of NI school principals 'have unmanageable stress' - survey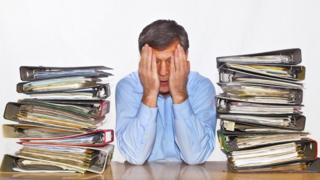 More than a quarter of Northern Ireland head teachers have an "unmanageable level of stress", a survey suggests.
Just over half of those surveyed by the National Association of Head Teachers (NAHT) NI said work-related stress had a high impact on their health.
The union accused the Department of Education and the employing authorities of "failing in their duty of care to safeguard health and wellbeing".
The department said a range of measures were in place to address such issues.
In the survey, 236 head teachers from all school types answered questions about workload, stress and wellbeing.
More than four in ten said that staff morale in their schools had deteriorated over the past year, while more than a half of school leaders said they were enjoying their role less.
Some of the main reasons given as a cause of stress were:
Too much administration and paper work
Increasing budget constraints
Long working hours
Lack of support for pupils with behaviour issues
School inspections
A previous survey of all teaching staff in Northern Ireland carried out in 2001 found similar levels of stress across the profession.
NAHT NI said it was "concerning" that there has been no progress on reducing those levels since then.
In June 2015, it was revealed that average teacher sickness absence rates had increased to 8.4 days in 2014/15, a rise from an average of 7.2 days in 2011/12.
'Over-worked'
The union is calling for more professional support for teachers and school leaders to address some of the survey's findings.
More than half of head teachers questioned said the new Education Authority was providing poor support to schools.
NAHT NI president Harry Greer said their members were having to deliver more with fewer resources.
"School leaders are over-worked and under-supported," he said.
"We know that there are low levels of applicants for key leadership roles and many talented teachers do not aspire to more senior positions."
"We are calling on the Department of Education to review their spending priorities in consultation with school leaders to ensure that schools are better supported and children's needs are being met most effectively."
The Department of Education said teachers' health and wellbeing was "of the utmost importance", and it was "more than happy to discuss these matters" with the union.
A spokesperson said "a range of actions" were in place, including a workload agreement and provision for recording incidences of work-related stress,