First refurbished Enterprise train to be unveiled by Translink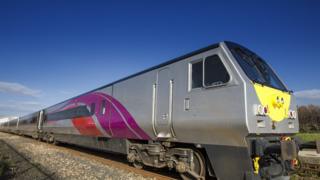 The first refurbished train for the Belfast-Dublin Enterprise service is to be unveiled by Translink on Monday.
Translink has said it is a "major milestone" in its £12.2m NI railways upgrade programme.
New livery and interiors are being introduced, as well as a significant overhaul of the train's mechanical systems and a new electronic passenger reservation system.
The scheme is a joint project with Irish Rail.
It is financed through the European Union's INTERREG IVA Programme, managed by the Special EU Programmes Body (SEUPB), with support from the department for regional development in Northern Ireland and the department of transport, tourism and sport (DTTAS) in the Republic of Ireland.