Adam Gilmour: Mother still blames education board over Cloughmills death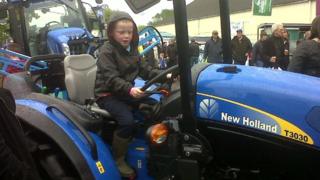 The mother of an eight-year-old boy killed while walking to catch a school bus a year ago says she still blames an education board for his death.
Adam Gilmour, from Cloughmills in County Antrim, was walking with his family when they were hit by a car.
Sarah Hanna said she had warned the North Eastern Education and Library Board that the road was too dangerous for them to walk on.
But she was told the children could not be picked up closer to home.
She said: "I remember going down to [TUV MLA] Jim Allister and saying to him: 'I need your help, I can't get this bus. I'm not complaining about walking the distance, but some morning we are going to get skittled.'
"Never did I think that a couple of weeks later it was going to happen. Never.
"The way I look at it is if they had have done what I asked for, which was quite simple, I wouldn't be sitting here.
"Adam would be at school. Everything would be fine. I hold them responsible for what happened."
Ms Hanna said Adam's brothers and sisters are still struggling without him.
"They're all finding it really hard. I would say out of them all, Kyle and Rhys miss him the most," she said.
"I think Kyle's just lost without him. Him and Adam were together doing everything.
"Rhys, he's stopped speaking. Very quiet, very withdrawn."
In the aftermath of the crash, it was 10-year-old Kyle who ran to his grandmother's house for help.
"He tried lifting Adam, tried lifting Ryan. He was just 10," Ms Hanna said.
"He still maintains Adam spoke to him. We don't know if that's true or not.
"And as well as me, Ryan still attends the doctor for his hip. He had a broken femur. He's been incontinent since it happened.
"He does struggle walking any distance at all. I think his wee leg is just always going to be sore.
"There's days I go round the house and the pain in my back is unbelievable. They said that's not going to get much better either."
Marlene Hanna, Adam's grandmother, said she could not believe a year had gone by.
"You just want to be able to lift him and hug him, put your arms around him and reassure him that everything's going to be fine, but he's not here to do that," she said.
"Should I live to be 100 that scene's never going to leave me, never - schoolbags, and shoes and coats and books lying across the road and the wee baby's buggy twisted."
She added: "I really do feel sorry for Kyle. He's like a wee lost soul.
"He comes down here to me every evening and you just know he's empty inside.
"He said he had this dream that Adam comes down from Heaven at night when they're all in bed to play with him, and when it's time for Adam to go back to Heaven we blow out the candles.
"But he said one night the candles wouldn't go out, Adam didn't want to go back to Heaven."
After Adam's death, the North Eastern Education and Library Board did provide transport for the other children, but the heartbroken family decided to move from that house.
The Education Authority, which has since taken on the board's responsibilities, now provides a taxi to take Ryan to and from school as a result of the injuries he also sustained in the crash.
A spokeswoman for the Education Authority said it was "mindful that this is the first anniversary" Adam's "very sad and tragic death".
She added: "Our thoughts are with the family circle at this difficult time."