Peter Robinson and Martin McGuinness in David Cameron meeting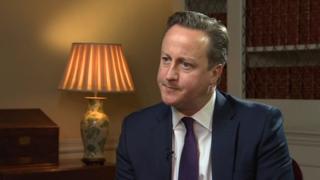 The first and deputy first ministers have held a private meeting with the prime minister in London, Downing Street sources have confirmed.
Peter Robinson and Martin McGuinness met David Cameron on Friday.
There is no confirmation on the content of the talks, but it is understood they are likely to have covered financial matters related to the talks process.
NI Secretary Theresa Villiers says she believes a deal is possible next week.
Sinn Féin leader Gerry Adams has predicted that the talks at Stormont will conclude soon.
The round-table talks between Northern Ireland's political parties are aimed at finding a resolution to the crisis at Stormont.
---
The story of Stormont's crisis
---
The political row was triggered by a police assessment that IRA members were involved in the murder of former IRA man Kevin McGuigan Sr last month.
Police said the IRA still existed, but added that it was not engaged in terrorism.
Sinn Féin said the IRA has "left the stage".
The talks are also focussing on the issue of welfare reform.
The Northern Ireland parties had agreed on a welfare reform deal in December but Sinn Féin withdrew its support in March.