Maghaberry Prison: Timeline of reports and inquiries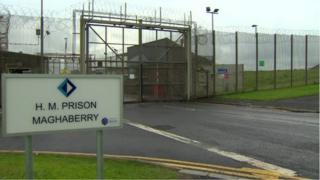 Inspectors said on Thursday that Northern Ireland's high security Maghaberry Prison is "unsafe and unstable" for prisoners and staff.
Her Majesty's Chief Inspectorate of Prisons in England and Wales, Nick Hardwick said: "This is the most dangerous prison I've been into throughout my time as Chief Inspector."
The prison has faced criticism in a series of reports dating back to 2009:
---
31 July 2008
Maghaberry prisoner Colin Bell is found dead in his cell.
Bell had shown signs of paranoia, began to self harm and tried to kill himself in April 2008.
---
October 2008
17 staff were suspended from duty following an internal investigation into Bell's death.
---
9 January 2009
Inquiry into Colin Bell's death recommended that the governor and deputy governor be subjected to disciplinary action.
Video footage shows prison staff lying in bed watching television while they were supposed to be on duty.
Inquiry found that Bell self-harmed 15 times in the four months before his death.
Bell tried to call a helpline 73 times before his death. The line was engaged 63 times.
After Bell took his life, it took staff 40 minutes to discover his body.
---
21 July 2009
---
August 2009
Prisoner John Deery attempts suicide in his cell at Maghaberry.
He later dies in Royal Victoria Hospital in Belfast.
Four staff were suspended.
---
16 December 2009
An inspection found the daily regime for prisoners had changed little since its last inspection in January 2009.
It found 'inconsistent assessment and monitoring of prisoners at risk'.
It recommended providing suitable regime of activities for vulnerable prisoners.
The report found that Maghaberry provided a safe prison environment for compliant prisoners.
However, the prison failed to do so for difficult prisoners, such as those with mental illness.
---
1 February 2010
---
18 June 2010
---
8 December 2010
Report into the death of John Deery criticised the prison for failing to implement changes in response to Colin Bell's death in 2009.
Investigation found that Deery had spent only 11 minutes out of his cell during the four days before his death.
---
22 May 2011
Prisoner Aaron Hogg took his own life after taking 'a cocktail of drugs.'
---
25 June 2012
---
27 June 2012
A report published by the Prisoner Ombudsman for Northern Ireland, Pauline McCabe looking into Aaron Hogg's suicide.
Hogg was taking prescription and illegal drugs during his time in custody.
The report highlighted "the importance of effectively addressing the misuse of drugs within Northern Ireland prisons."
A solicitor told the BBC he has pleaded with the judges not to send people to Maghaberry prison because it was awash with illegal drugs.
---
15 October 2012
---
December 2012
Inmate David Brown became ill while in custody and died in hospital.
The Prison Ombudsman criticised staff responses to Brown.
He was left unattended for five minutes in an unresponsive state and they did not immediately raise alarm.
The Ombudsman did however, acknowledge that little could have been done to save Brown.
---
17 December 2012
A report based on an unannounced inspection in March 2012 said the standards of the prison had improved in three years since 2009.
Arrangements to support vulnerable prisoners were improving, however the report said 'gaps still existed'.
The report praised mandatory drug testing, but flagged concerns about distribution of prescription medication and treatment.
It also found that despite adequate staffing, there was improper supervision of inmates.
According to the report, there was 'insufficient activities' for inmates, with some prisoners being locked up to 20 hours a day.
---
May 2013
A report is published after a prisoner, 'Mr C', is brain damaged after an attempted suicide.
The report said that while the inmate had a number of risk factors, he was confined to his cell with very limited human contact.
10 April 2014
Prisoner officer Daniel Barclay is given a suspended sentence for Colin Bell's suicide.
Barclay was sentenced to 15 months, and suspended for three years.
Barclay was responsible for monitoring CCTV of Bell in his 'safe cell'.
He had watched TV and slept while monitoring the footage.
---
24 April 2015
Part of the jail was evacuated, no one was injured in the incident.
---
5 November 2015
A report is published based on an unannounced inspection in May 2015.
The report found that the prison was in a "state of crisis".
Her Majesty's Chief Inspectorate of Prisons in England and Wales, Nick Hardwick said: "This is the most dangerous prison I've been into throughout my time as Chief Inspector."
---
24 February 2016
A report is published following an unannounced visit to Maghaberry in January 2016.
Its authors said the prison had "stabilised" but that progress was "fragile".
Violence in the prison and access to illicit drugs were identified as ongoing problems.
---
September 2016
---
November 2016
---
August 2017
Inspectors once again express concern about the care of highly-vulnerable prisoners at Maghaberry.
They said care plans for some men at risk of suicide and self-harm remained unacceptable.
It added that important lessons have not been learned from inquiries into deaths of prisoners in custody.
---
April 2018
A report finds that a mother of a man who took his own life in Maghaberry was told he was fine after warning staff hours earlier that he was threatening to kill himself.
The head of the Northern Ireland's Prison Service apologises to the family of David O'Driscoll.
The investigation into his death finds that Mrs O'Driscoll was reassured that her son would be assessed continually and staff working the night shift would be informed of concerns about his wellbeing, but none of those preventative measures were put in place.
The Prisoner Ombudsman also finds that inadequate handover notes to staff arriving for the night shift "regrettably is a recurring finding".