Northern Ireland arts: Artists gather at Stormont to protest at cuts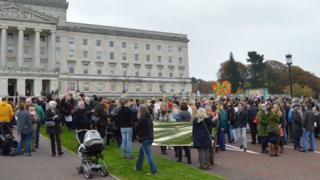 About 300 artists, musicians, writers and actors gathered at Stormont to protest about cuts to the arts budget.
They gathered outside, ahead of the Arts Minister, Carál Ní Chuilín, answering questions from MLAs on Tuesday afternoon.
The protestors say arts organisations cannot sustain constant reductions in their grants and that performances, shows and jobs are at risk.
Ms Ní Chuilín says she is dealing with a reduced budget within her department.
She has previously said she cannot reverse the in-year cut of more than £800,000 in arts funding that she recently announced.
Niall McCaughan, from the Playhouse Theatre in Londonderry, said: "The budget has decreased over the last four years from £14m to £10m and we really need to reverse this.
"It needs to happen now."
Also attending the protest is Will Chamberlain from the Belfast Circus School.
"We have questions being put to her in the assembly and we're going to be watching," he said.
"I think that's the message that we have for her that it's not just the arts community that has questions, all political parties really have questions, and we want the right answers and we're going to keep on asking the questions until she realises the value of the arts and the folly of the cuts."
Later, during questions to the culture minister in the assembly, Ms Ní Chuilín, in response to a question from Basil McCrea, said she would meet some of the arts protestors.
She later held a brief meeting with some representatives from the protest in the Great Hall at Stormont, where they told her directly of their concerns.
Although she did not say that any more money for the arts was available, she agreed to meet with them again in the weeks ahead.