Ballygawley bus bombing: Former soldier reunited with woman who helped save his life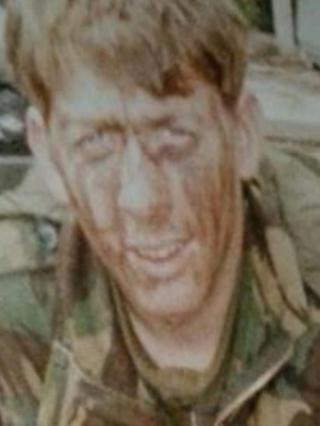 A former solider, who was injured during the Ballygawley bus bombing 27 years ago, has been reunited with the woman that came to his aid.
James Leatherbarrow suffered extensive injuries in the IRA attack in County Tyrone in 1988.
Eight soldiers, all aged between 18 and 21, were killed.
Mr Leatherbarrow suffered a broken back and perforated eardrums.
The injured soldiers were given first aid by members of Londonderry's Star of the Valley Band who were travelling behind the bus.
Mr Leatherbarrow, who was 21 when the attack happened, said he was inundated with offers of help to find the woman who gave him first aid following his interview on BBC Radio Foyle.
'Very emotional'
After his radio interview, "my Facebook lit up like a Christmas tree," said Mr Leatherbarrow.
"People from Londonderry and Belfast were sending me friend requests and saying they knew the woman."
He was later contacted by the woman, who was a teenager at the time of the bomb.
"We have been texting and speaking on the phone since.
"It is very emotional. It was amazing actually.
"We hope to meet up one day and then I can thank her personally.
"I told her at the time that I couldn't die because I was getting married. She remembered that part of our conversation.
"She said everyone's clothes had strewn all over the place and that she and others were gathering everyone's personal possessions up.
"Apparently I was in and out of consciousness all the time. She kept saying my legs were still there."
'Heroes'
Mr Leatherbarrow told BBC Radio Foyle that he was convinced one of the bombers tried to board the bus in Belfast before issuing a death threat to the soldiers.
He said he thought that bus had been involved in an accident, but then realised it had been blown up by a landmine.
"Talking to this woman has filled in parts of a big jigsaw," Mr Leatherbarrow added.
"It's amazing what radio can do. I wouldn't be sat here today if it wasn't for her. I thank her so much.
"A lot more of us would have died. They are the heroes."