Milk price fall: NI production level falls by 20%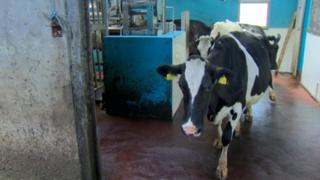 The volume of milk being produced in Northern Ireland has fallen by 20% since May.
The monthly statistics, released by the Department of Agriculture and Rural Development (DARD), also show a further fall in the farm gate price of milk.
The figures demonstrate how farmers are easing back on milk production, as they are being paid less than what it costs them to produce it.
The milk price is currently at its lowest point in almost nine years.
The price paid to farmers is under 19p a litre. They said they need to make 27p a litre to break even.
Milk production has dropped by 45m litres to just over 180m litres.
Production peaked in May at 225m litres.