Woman held over west Belfast explosives find released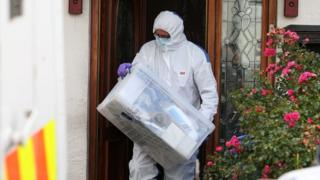 A 35-year-old woman arrested by police investigating an arms and explosives find in west Belfast has been released.
Semtex, explosives, two guns and more than 200 rounds of ammunition were discovered during a raid at a house on Ballymurphy Road earlier this month.
The woman, who was arrested on Sunday, was released pending a report to the Public Prosecution Service.
A 45-year-old man with an address in Sunderland has previously been charged in connection with the seizure.