Milk prices: NI dairy farmers to get £2,000 each from EU aid package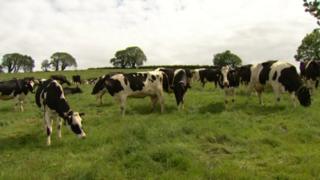 Dairy farmers in Northern Ireland are to receive £2,000 each, on average, from an European Union aid fund set up to address a crisis in the industry.
UK farm minister George Eustice gave the detail on BBC Radio 4's Farming Today programme.
The UK got £29m out of a total aid package of £365m agreed at a farm ministers' meeting in Brussels earlier this month.
It was established to help farmers cope with a long slump in milk prices.
It is costing them more to produce their milk than they are getting paid for it.
'Too little'
Mr Eustice said the European Commission had given an additional £1.1m to the UK, specifically to address the particular pressures Northern Ireland dairy farmers were under.
The total dairy aid allocation to the Northern Ireland industry is £5.1m.
Northern Ireland farmers export the bulk of their product and are particularly exposed to commodity price fluctuations and currency exchange rates.
The Ulster Farmers' Union has already said it was disappointed at the package, describing it as too little spread too thinly.
Some farmers in Northern Ireland have been losing up to £2,000 a week due to the depressed milk price.
Mr Eustice told the BBC: "The allocation will be made on the basis of milk production and it'll be just a shade under 0.2p per litre, but roughly we think in England and Wales it'll come out around £1,800 per dairy farmer."
He added that Northern Ireland farmers would be allocated "just short of £2,000 and in Scotland, because they've got larger dairy units on average, it's going to be just over £2,500".
Mr Eustice also said that the UK had decided not to exercise the option to make advance payments of EU subsidies to farmers, preferring to ensure that the main payment in December is made on time.
Extensive cross-checking of subsidy applications has to be done before payments can be made.
He said the government had asked European officials to "loosen the requirements for verification and validation and all the checks that we need to do so that we could actually pay more farmers early in the payment window".
"We were not successful in getting the commission to accept that."
Northern Ireland's Department of Agriculture has already said it will not issue advance payments, concentrating instead on getting as many farmers paid out in full on time.