Gaddafi assets cannot be used to compensate IRA victims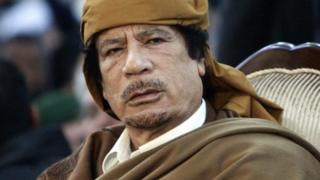 More than £1bn belonging to former Libyan leader Colonel Gaddafi cannot legally be used to compensate victims of IRA attacks, a committee has heard.
The Northern Ireland Affairs Committee is examining government support for victims of attacks involving weapons supplied by Libya.
Victims are demanding compensation is paid from assets seized after Gaddafi was killed in 2011.
But a foreign office minister told the committee that is not possible.
Tobias Ellwood MP said international law prevents the British government using the assets in that way.
The minister pointed out that there currently is no government in Libya to deal with demands for compensation payments.
Some of the victims and their families claim that successive British governments have ignored and marginalised them.
Priority
In response to a question from Independent MP Lady Sylvia Hermon, he said the government will give priority to seeking compensation from any future Libyan administration.
But the DUP's Ian Paisley was dismissive of promises of future government action.
"Waiting for the Libyan authorities to sort themselves out is like waiting for Jeremy Corbyn to sing the national anthem," he said.
Lady Hermon also asked the Foreign Office to address concerns that the British government gave priority to the interests of British oil companies working in Libya above the interests of IRA victims.
The committee has said it may call former prime minister Tony Blair to give evidence about his government's dealings with the Libyan authorities, and its efforts to secure compensation for IRA victims.