Northern Ireland GPs say urgent action needed over 'crisis'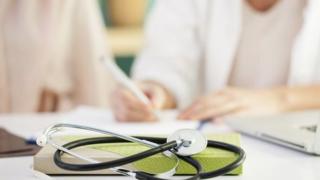 Northern Ireland's GPs say urgent action is required to turn around the crisis facing general practice.
The Royal College of GPs (RCGP) says 400 more doctors are needed by 2020 and they must be allowed more time to see patients.
Its chair, Dr John O'Kelly, said it was time that resources were directed away from hospitals and towards general practice instead.
He said they were not asking for extra money.
"We are asking for an increase in the percentage of NHS budget given to GP practices, for instance 11% more of the budget, so that we can deliver a quality GP service. This is not about more money," he said.
'Heading for the rocks'
Launching its new strategy 'delivering change for general practice', the college told the BBC the situation has not been helped by the current stalemate at Stormont.
"Having the health service freewheeling along is not helpful - at the minute it's like a ship heading for the rocks and the captain is not on the bridge," Dr O'Kelly said.
"What we are asking for is for politicians to sort their differences out and to work with us and the health service to deliver a service that is fit and better for patients and of a quality that the public deserve."
In its latest document addressing GP issues in Northern Ireland, the RCGP urges the government to take a range of actions. They include:
Setting a target for increasing the number of full-time equivalent GPs in Northern Ireland by 400 by 2020
Improving GP recruitment and acting on recommendations of the government's own GP workforce reports from 2006, 2010 and 2014.
Increasing medical students' exposure to general practice.
Improving retention
Encouraging GPs who have left Northern Ireland to return
With more people living longer, practices are finding waiting lists are longer. While this impacts on the patient, according to the RCGP, it is impacting negatively on staff as well.
The college says that Northern Ireland requires an additional 46 people each year to be trained as GPs in order to plug the work force gap.
It says the ageing workforce and a growing population means a crisis is looming unless there is proper workforce planning, something that it raised back in 2006.
Feeling rushed
Dr O'Kelly said GPs are frustrated by the quality of care they often have to give, not because they want to, but due to the time allocated to patients.
"Patients want an appointment where the doctor has time to sit and listen, to investigate and then to explain their illness. GPs want to spend time with them, we don't want to feel rushed. But patients are coming with more complex conditions, it all takes time," he said.
The fact that more women are choosing general practice as a career, according to the British Medical Association (BMA), places more pressure on the system.
Earlier this year a report by the BMA highlighted the workforce gender split as 55% men - 45% women, compared to 80% men and 20% women almost 30 years ago.
The BMA says more women create further pressure on the system as female GPs have different commitments outside work, including maternity leave and caring responsibilities.
The college is calling for change. It says it is committed to the vision of Transforming Your Care and calls for the immediate implementation of the recommendations made by the Donaldson report.