Dungannon lamb theft: Farmer says animals 'poisonous' if eaten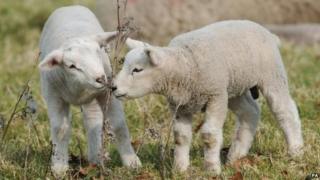 The owner of 16 lambs stolen in County Tyrone has said they are not ready to enter the food chain.
Police said the theft from a farm on the Eglish Road in Dungannon was reported shortly after 20:30 BST on Saturday.
The farmer who owns the lambs said they are not suitable for consumption for another six weeks.
It is understood the lambs had recently been given drugs which will take six weeks to leave their systems.
Ch Insp Graham Dodds called for vigilance from meat processors if an attempt was made to sell the animals.
"I would ask any abattoirs to be aware of this and carry out the proper checks on any lambs that they come into contact with in the next few weeks," he said.