Gyrocopter pilot Norman Surplus arrives back in Northern Ireland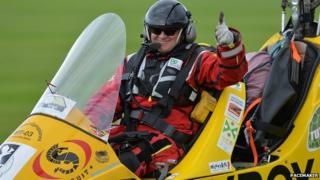 An adventurer from Northern Ireland has arrived back home following a 7,500-mile (12,070 km) journey in a gyrocopter.
Norman Surplus, from County Antrim, had already flown the aircraft across North America and the North Atlantic to Greenland and the Faroe Islands.
From the Faroes, Mr Surplus flew to Stornoway on the Isle of Lewis on the west coast of Scotland.
After a short stopover, he headed to Gigha from where he flew to Larne.
"It has been an epic journey and you could not have predicted how it would turn out," Mr Surplus said.
"The aircraft has worked brilliantly the whole way, it is fantastic, it really is.
"The amount of trust you have to put in it, you are 200 miles out at sea and you have another 200 miles to go, it carried me home."
Bad weather, including strong winds, had delayed his journey which has been part of a wider effort to fly around the world in a gyrocopter.
Mr Surplus began his latest aerial adventure in Oregon in the US on 1 June and flew over several States, including Wyoming.