Action urged to end NI paramilitary attacks on children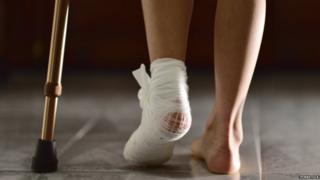 The government needs to take immediate action to stop paramilitary assaults on children in Northern Ireland, the Human Rights Commission (NIHRC) has said.
Twelve children were shot between 2009 and 2014, according to the commission.
Another 27 children were assaulted in that period but the NIHRC added that the figures may be under-reported because of fear of retribution.
It is among 30 areas of concern it has highlighted to the United Nations Committee on the Rights of the Child.
'Unacceptable'
NIHRC's chief commissioner said they were raising the issue of paramilitary attacks internationally to "send a message" to the the authorities, local communities and paramilitary groups.
"This is an abuse of children's rights," Les Allamby told the BBC's Good Morning Ulster programme.
"What we want to say to the authorities and to government and to the UN convention's committee is that this is still happening, it has to stop."
Mr Allamby said the purpose of their report was "about making sure there is a strategy" for dealing with paramilitary attacks on children.
"It's about communities being aware that it's unacceptable, it's about putting pressure through local communities on paramilitaries to cease this.
"This isn't going to stop overnight, but we have to say to paramilitaries - there is nothing and no circumstances where it's acceptable to behave in this particular kind of way - and to keep that pressure and to keep highlighting the fact that this is still happening in our communities in 2014/2015."
'Smacking ban'
In a wide-ranging report, the NIHRC has called for the UN committee to ask the UK government to:
Increase the minimum age of criminal responsibility from 10 to at least 12 years of age
Ban smacking of children
End academic selection
The UN committee called for testing to be abolished in 2008 but the commission said that despite the end of the 11 plus, the current system of unofficial testing has allowed a "two-tier culture" to remain.
Mr Allamby said: "The commission has highlighted a number of recommendations made by the United Nations in 2008 that have not yet been implemented and therefore require urgent action."