Waving Irish tricolour at loyalist camp 'could have caused major disorder', court hears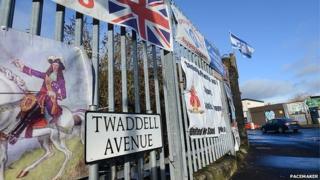 An incident in which an Irish tricolour flag was allegedly waved from a car at loyalist protesters could have caused major disorder, a court has heard.
Christopher Maxwell faced Belfast High Court on charges relating to the incident in north Belfast last month.
A prosecuters said police were forced to intervene as up to 150 people surged towards the vehicle as it passed.
A judge granted Mr Maxwell bail, but said the alleged offence was "of the most ridiculous nature".
The 38-year-old, from Centenary House in the city, is accused of driving away from police officers.
He faces charges of dangerous driving, having no insurance or licence, and carrying out a provocative act at the Twaddell Avenue loyalist protest camp on 14 July.
At the time loyalists were in the area staging demonstrations over the banning of an Orange Order parade from walking along a stretch of road separating loyalist and nationalist communities.
Agitated
A prosecution lawyer said the car was driven towards the protesters before a co-accused, Finatan Jude Geraghty, hung a large Irish tricolour out the passenger window.
"As the vehicle passed the crowd of approximately 150 loyalist protesters the front seat passenger shouted out 'Up the 'RA' in a loud and clear manner," she said.
"It invoked them to be agitated and surge into the road.
"Police were concerned this could have resulted in very inflamed and severe public disorder had they not intervened because there has been tension in the area for some time."
Despite officers using lights and sirens in a bid to stop the car it took off at speed, the court heard.
The prosecution lawyer said the vehicle almost caused a three-car collision at one stage in the pursuit.
Difficulty
A police helicopter was involved in tracking the car before Mr Maxwell and Mr Geraghty, from Ivy Hill in Lisburn, were stopped and arrested on the Hannahstown Road.
Mr Maxwell told police he had neither seen the flag being waved from the car window nor heard anything being shouted at the protesters, the court was told.
The judge banned Mr Maxwell from going within a mile of the interface at Twaddell Avenue.
But he added: "I do have some difficulty with the suggestion he had no idea the co-accused had a tricolour in the car."
The judge imposed a curfew on Mr Maxwell and told him to report to police twice a week.