£10m land valuation for Belfast site was 'irredeemably flawed', judge rules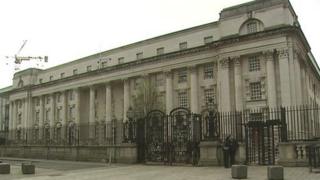 A Belfast property valuation firm has been strongly criticised for its role in a deal in which a housing association will lose almost £9m.
Helm Housing spent £9.75m on a site at Great Georges Street in Belfast in 2007 - the site is now on the market for around £1m.
Helm is suing Myles Danker Associates claiming its valuation was negligent.
In a preliminary ruling a High Court judge said the valuation was outside the permissible range of error.
Mr Justice Horner added that elements of Myles Danker's work showed "inexcusable" failings.
His judgement said that a firm called Lacuna Developments agreed the site for just over £6.5m in October 2006, shortly after it had been placed on the open market.
There followed discussions between Lacuna and Helm and in December the housing association agreed to buy the site for just under £10m.
In January 2007 Myles Danker produced a valuation for the Ulster Bank, Lacuna's funder.
It recorded that the market value of the site as a development opportunity was "reasonably presented" at £10.5m.
That was for a large apartment building of 178 units over at least nine storeys.
However Myles Danker did not have an expert report that dealt with the prospect of planning permission being granted for such a scheme.
In March 2007, Helm asked Myles Danker for a valuation of the site as if it were on the market immediately and without planning approvals.
The association was given a report that valued the site at £10m.
However, there was no mention in the report of either the £6.5m Lacuna had agreed or the valuation provided to the bank at £10.5m.
The report did not identify any other transactions involving comparable sites that had been sold in the vicinity in the recent past.
Helm relied on the valuation and bought the site for £9.75m. Within months the market crashed and the site is now worth around a tenth of the price Helm paid.
Mr Justice Horner said the firm had "blithely ignored" the £6.5m sum from just a few months before.
He added that this figure was "the best evidence of market value and should have formed the basis of any valuation subsequently carried out."
He said the failure to use this price in the valuation was "inexcusable."
The Myles Danker firm has effectively ceased to exist - all its staff joined the Savills agency in 2011.