Easyjet: Orange Order offended by apology for promoting 12 July event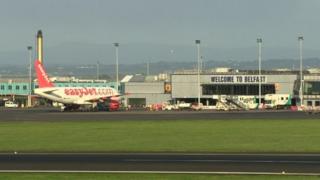 Easyjet has been accused of demonising the Orange Order after the airline apologised for promoting the annual 12 July commemorations as a tourist event.
The airline issued the apology after receiving a complaint about an event listing in its passengers' magazine.
Easyjet said: "We fully understand the sensitivities around the event and apologise for it not being spotted".
But senior Orangemen Dr David Hume described the airline's response as "hurtful" to Orange Order members.
The original listing was published in Easyjet's inflight magazine, which includes travel advice for passengers on tourist attractions.
'Cultural interest'
The magazine said "hundreds of colourful parades take place across Northern Ireland on the 12 July bank holiday to commemorate the 1690 Battle of the Boyne".
It added that parades were "great to watch, just check ahead for travel disruptions and advice".
The vast majority of 12 July parades pass off without incident every year, but there have been sectarian tensions around a small number of parades and some have resulted in serious rioting.
Sammy McNally, a blogger from Northern Ireland, complained about the listing. He asked the airline if it would taken a similar approach in Serbia and encourage people to attend festivals that "exacerbate ethnic tensions".
In an email response, an Easyjet spokesperson said: "We rely on an external network of writers, based in each of our destinations, to provide the recommendations for our destination guides that appear within easyJet Traveller.
"These writers are always locally based and are respected journalists in their community and it's their expertise and on-the-ground knowledge that makes the content of our guides so useful.
"In this instance the author of our Belfast guide felt the event's inclusion was of cultural interest to our readers, however, we fully understand the sensitivities around the event and apologise for it not being spotted at our normally rigorous editorial sign off."
"We will not be working with this writer again and will not include such recommendations in future."
'Ludicrous'
Mr McNally welcomed the apology but Orangeman Dr Hume said he was "appalled".
"It really is ludicrous," Dr Hume told the BBC's Talkback programme.
"I'm just appalled that they have taken this decision on the basis of one person making this sort of complaint".
He said it would cause a "lot of hurt" to members of his organisation.
"I think a lot of people will see it as a demonization of the Orange Order," Dr Hume said.
"There's a lot of very positive, constructive work going on within the institution in relation to the 12th July, in relation to flagships [parades], where we co-operate with the tourist authorities, and I think all of that needs to be remembered."