Gerry Adams bomb hoax accused gets bail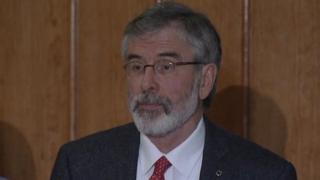 A man charged with causing a hoax bomb alert at the home of Sinn Féin leader Gerry Adams has been granted bail.
Eric Rohloff of Clifton Road, Bangor, appeared via videolink at Belfast Magistrates Court on Thursday.
Mr Rohloff, 39, was told he must surrender his two passports, one UK and one German, to the courts.
He was also ordered to hand in his German identity card and a £5,000 cash deposit.
He must sign on at Bangor police station three times a week.
Update: On January 31, 2017, all charges against Mr Rohloff were withdrawn.