Fishermen rescued after boat sinks off County Down coast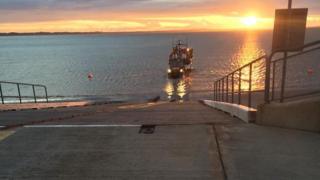 Six fishermen have been rescued after their boat collided with another vessel and sank off the coast of County Down.
The coastguard received a mayday call just before 05:30 BST on Wednesday. The collision happened 11 miles south of Ardglass.
All crew of the trawler, the Silver D, were taken on board the other boat and brought to Ardglass, accompanied by Newcastle lifeboat. No-one was injured.
It is not yet known what caused the collision.
Newcastle RNLI coxswain Richard Herron said that after the alarm was raised, they learned on their way out to the emergency that one of the boats had sunk.
"Luckily all the crew were on board the other vessel, but it was taking on water," he said.
"By the time we got there, they had the leak under control and didn't require any assistance with the salvage pumps.
"Everyone on board was OK medically, so we escorted them back to Ardglass."
Marine Coastguard Agency staff have gone to Ardglass to assess damage to the other trawler, the Good Intent.
The skippers on both boats are from Northern Ireland, while the crew members are all migrant workers.