Ex-TA soldier accused of bomb hoax at Gerry Adams' home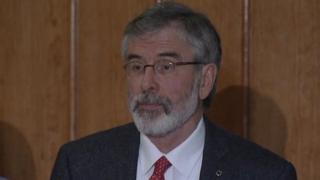 The man charged with causing a hoax bomb alert at the home of Sinn Féin leader Gerry Adams is an ex-Territorial Army soldier, it has been reported.
The 39-year-old appeared in court in Belfast on Saturday, facing 14 charges, including causing the fake alert at Mr Adams' west Belfast home in May.
The Sunday Life newspaper has named the accused as Eric Rohloff from Clifton Road in Bangor, County Down.
The charges also include making threats to kill other members of Sinn Féin.
Mr Rohloff was remanded in custody to appear before Belfast Magistrates' Court again on Thursday.