The Twelfth: Thousands march in Orange Order parades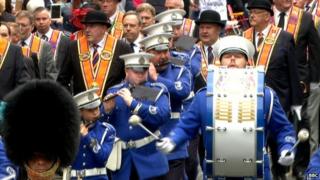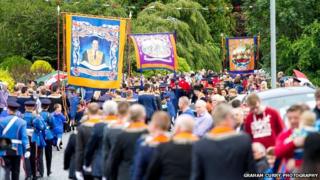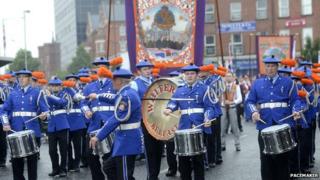 Thousands of Orange Order members have been taking part in parades across Northern Ireland.
The parades mark the 325th anniversary of King William III's victory at the Battle of the Boyne in 1690.
A total of 18 demonstrations were held.
The order has again been barred from parading along a stretch of the Crumlin Road in north Belfast that separates unionist and nationalist communities, on its return from the commemorations.
There is a heavy security presence in the Woodvale Road area on Monday evening.
The parade in Belfast started from Carlisle Circus, making its way along Clifton Street, Donegall Street, Royal Avenue, Castle Junction and Donegall Place to city hall.
A single drumbeat was played as the parade passed St Patrick's Church in Donegall Street.
However, one band, Finaghy True Blues from south Belfast, played a tune going past the Catholic church, in spite of a Parades Commission determination that only the drumbeat should be played.
They admitted they had played the hymn How Great Thou Art and said they were only playing religious music outside a place of worship.
Also in north Belfast, a 21-year-old man was arrested and charged with assaulting a police officer and disorderly behaviour in the Ardoyne area. He was arrested along with a 32-year-man, who was later released.
At city hall, a wreath-laying ceremony took place at the Cenotaph.
After that, the parade passed through Donegall Square West to Bedford Street, Dublin Road, Shaftesbury Square, Bradbury Place, Lisburn Road, Balmoral Avenue and Malone Road, on its way to the demonstration field at Barnett Demesne.
Speeches have taken place with both the Parades Commission and media coming in for criticism.
Orange Order Belfast County grand master George Chittick said: "We gave our people a peaceful Twelfth last year.
"What was our reward? More stringent measures from the Parades Commission - the biased Parades Commission.
"Let's not lose the battle. Remember it may take long, it may not be in my lifetime, but I'll tell you this, we will win in the end."
Elsewhere, the Orange Order said the demonstration in Bessbrook, south Armagh, provided "an enhanced cultural experience" as part of the Twelfth celebrations.
Almost 5,000 people and 80 bands took part in the march, which the order said was the biggest in Northern Ireland.
BBC News NI's Gordon Adair said there had been some concerns expressed by some residents of the village but letters sent by the Orange Order to every house on the parade route seems to have helped address the concerns.
"The atmosphere here is relaxed and peaceful," he added.
Parades took place at a number of other locations including, Coleraine, Holywood, Lawrencetown, Benburb, Antrim, Kesh and Fivemiletown.
More than 3,000 police officers are being deployed during the parades on Monday.