QUB study shows pine martens are more common in NI than thought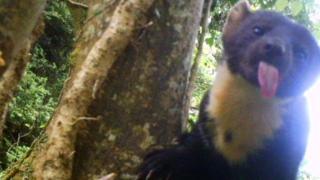 A once rare and elusive forest dweller is much more common in Northern Ireland than was previously thought.
The pine marten, a cat-sized carnivore related to the stoat, was believed to be confined mostly to forests in the west of Northern Ireland.
But a survey by Queen's University, Belfast, and 70 volunteer conservationists has shown that pine martens are present in every county.
The teams used camera traps in 250 forests to capture images and videos.
The cameras were placed opposite squirrel feeders in the woods.
The researchers returned a week after placing the traps and shared the images with scientists.
The project was led by Queen's University academic Dr David Tosh.
"Scientists usually survey for pine marten by looking for their faeces (or scats as they are known) along forest tracks and roads and due to confusion with fox and stoat faeces, genetic testing is required to confirm the source," he said.
"The use of remote cameras bypasses the need for these complicated and more expensive techniques and can be done with a minimum of training."
It is the first comprehensive survey of its kind using this technique.
"We simply could not have done a project of this scale in such a short period of time without the help of the citizen scientists," Dr Tosh added.
The project was paid for out of the Challenge Fund, set up to distribute money from the plastic bag tax to environmental projects.
The research will be used to help with the conservation of native red squirrels.
It is thought there could be a link between the pine marten population and the numbers of reds and greys.