Department of Education funds school staff redundancies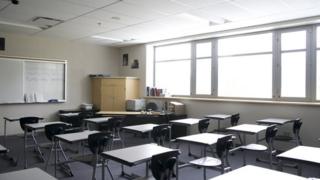 Voluntary redundancy deals for 131 school staff whose applications were on hold have been approved by the Department of Education.
The cost was due to be funded under the civil service voluntary exit scheme.
As part of the Stormont House Agreement, the £700m scheme's future is uncertain due to the NI Executive's continuing discord over welfare reform.
Education Minister John O'Dowd has now decided to use his department's budget to fund all 131 applications.
The department said the move would cost £5m.
Uncertainty
The minister had previously approved 80 applications in schools that are closing or amalgamating.
The remaining 131 school staff who had applied for redundancy ended the school term without knowing if they would be required to return in September.
Teachers who wanted to take voluntary redundancy were offered protective redundancy notices at the end of April, "subject to the Department of Education funding the redundancy payment".
Effectively, this meant that if the money was found to let them go, their redundancy would come into effect on 1 September.
School staff are entitled to a redundancy payment of up to 60 weeks' salary as part of the process.
As recently as 9 June, the department had written to principals and the chairs of affected schools' boards of governors saying that "all severance costs" for the 131 applications "would be funded" from the wider civil service scheme.
It warned that those redundancies could not be approved "unless, and until, the department has secured access" to the money for that scheme.
In that letter, they said "the situation regarding this fund remains unclear" and they were aware of "the uncertainty this creates for your school and teachers for whom applications for redundancy have been admitted and not been approved".
Two timetables
The Stormont House Agreement included plans for the Northern Ireland Executive to borrow up to £700m over four years to fund a civil service voluntary exit scheme.
Of that figure, £200m was to be made available to fund public sector voluntary redundancies in 2015/16.
As a result of the uncertainty over the agreement, some schools had drawn up two timetables for the new school year in September, one that assumed the teacher would return and one that assumed they would not.
Last year, the department was criticised for its management of the teacher redundancy scheme.
A number of teachers who thought they were getting redundancy deals had them withdrawn just before the end of the 2013/14 school year.
Some of those teachers applied for redundancy again this year.
The Department of Education subsequently said it did not manage 2014's scheme as well as it could.