Somme remembrance: Irish cabinet minister joins Belfast ceremony for first time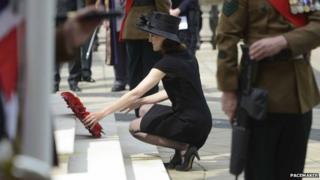 Secretary of State Theresa Villiers has led tributes to soldiers who fought in the 1916 Battle of the Somme.
Ms Villiers was joined at Belfast City Hall cenotaph by First Minister Peter Robinson and Irish Foreign Affairs Minister Charlie Flanagan.
Mr Flanagan is the first Irish cabinet minister to mark the Somme anniversary in Belfast.
His participation marks the 99th anniversary of the battle, which began on 1 July 1916.
During the ceremony, Mr Flanagan laid a wreath at the cenotaph in remembrance of all those who fought at the Somme.
Soldiers from the 36th (Ulster) and 16th (Irish) divisions fought side by side in the battle, which took place between 1 July and 13 November, 1916, at the river Somme in France.
More than 3,500 were killed and thousands more injured.
Before laying a wreath, Mr Flanagan said: "I am honoured to represent the Irish government at this important commemoration.
"While the Battle of the Somme has a particular resonance in Northern Ireland, it was a significant event for this island as a whole.
"Participating in commemorations creates an opportunity for greater understanding of and respect for all of the historical perspectives on this island.
"This, in turn, fosters reconciliation and helps to heal the divisions of the past."
Also speaking before the ceremony, Ms Villiers said: "I am honoured to represent the government at today's ceremony.
"It is important that as a country we remember all those men from across the island of Ireland who gave their lives for our freedom during World War I.
"I am also delighted that my colleague, Parliamentary Under-Secretary of State, Ben Wallace, will lead commemorations on behalf of the government at the ceremonies in France.
"Both I and Minister Wallace are engaged with the Irish government on a programme of events to mark World War I and the wider decade of centenaries.
"This decade offers an opportunity to learn about our shared history in a way which, through mutual respect and inclusivity, will help us continue on our path towards a shared future."
Earlier today, Lord Mayor of Belfast, Sinn Féin's Arder Carson laid a wreath at the cenotaph commemorating those who had fought at the Somme.
The party has always declined to participate in the official ceremony.