Kingsmill massacre: Survivor in legal action threat over inquest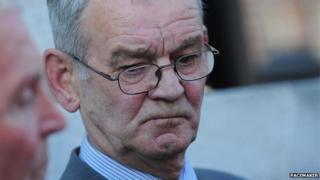 The survivor of the IRA murders of 10 Protestants has threatened legal action over the failure to appoint a coroner for a new inquest into the murders.
Republicans ambushed a mini-bus carrying the workers at Kingsmill in County Armagh in 1976 and murdered them after checking what religion they were.
Alan Black has been joined by a number of the victims' relatives in issuing an ultimatum to the department of justice.
Northern Ireland's senior coroner John Leckey is due to retire in the autumn.
He has been presiding over preliminary proceedings ahead of the the fresh inquest.
No other coroner has been assigned to the case, despite repeated calls from Mr Leckey for the justice minister David Ford to find a successor.
Obstacle
In Mr Leckey's final preliminary hearing in the case before retirement, a lawyer representing Mr Black and the family of victim John McConville said judicial review proceedings would begin if no action is taken.
Mr Black, who survived the massacre despite being shot 18 times, attended the hearing in Belfast coroner's court.
Afterwards he said the families would not accept a further hold-up in the inquest.
"Over the years, it's been one obstacle put in our way after another and it's all coming from the department of justice," he said.
"We will do whatever is necessary with the legal people and hopefully get a result then."
A spokesman for the justice department said the justice minister understood the families' concerns.
He said the coroner's service currently has three full-time coroners, including the senior coroner, and the minister had recently approved the appointment of a county court judge to create additional judicial capacity for legacy cases.
The textile factory workers were travelling along the Whitecross to Bessbrook Road in rural south Armagh on 5 January 1976.
The only Catholic in the minibus was ordered to leave the area, while 11 of his Protestant work colleagues were shot.