Londonderry bomb: Fourth man released in investigation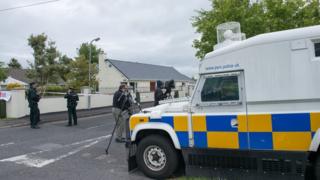 A fourth man arrested after a bomb was found under a police officer's car outside his house in Eglinton, near Londonderry, has been released without charge.
The 27-year-old had been arrested in Eglinton on Thursday night.
Three men arrested by police in County Donegal in the Republic of Ireland on Thursday morning were all released without charge a day later.
Police described the attack as a "clear attempt to murder" officers.
The officer and his wife are both members of the PSNI.
The device was discovered at Glenrandel in Eglinton in the early hours of Thursday morning and 15 houses were evacuated.