Pastor James McConnell prepared to go to jail over Islam sermon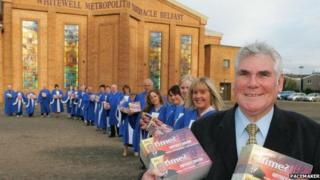 Pastor James McConnell says he is prepared to go to jail to defend his right to free speech.
He is to be prosecuted in relation to the internet broadcast of a sermon he delivered at the Whitewell Tabernacle, Belfast in May 2014.
He told BBC Radio Ulster's Talkback programme: "I don't want to go to jail, but I am prepared to go.
Pastor McConnell said he was defending the right to free speech.
"I believe passionately in the word of the Lord Jesus Christ and I am fighting for a principle."
In May 2014, the pastor delivered a sermon in which he described Islam as "heathen" and "satanic".
After the sermon was posted online, complaints led to a police investigation.
The evangelical preacher later issued a public apology for any offence caused.
The Public Prosecution Service says Pastor McConnell was offered an informed warning but he refused it.
While an informed warning is not a conviction, it is recorded on a person's criminal record for 12 months.
Anyone who refuses to accept it can be prosecuted.