Londonderry alert: Three questioned over Eglinton bomb find released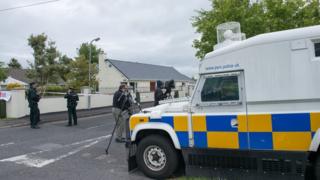 Three of the men being questioned by police after a bomb was found under a PSNI officer's car outside his house in Eglinton, near Londonderry, have been released without charge.
The men were arrested by police in County Donegal in the Republic of Ireland on Thursday morning.
Police said on Friday night they had been released without charge.
A fourth man, 27, was detained by the PSNI in Eglinton on Thursday night.
Police said the attack was a "clear attempt to murder" officers. The wife of the officer concerned is also a member of the PSNI.
A neighbour of the two police officers said that the police woman disturbed someone outside her house by knocking the window.
'Noise'
"I have been talking to the couple and they are both shocked but have taken it very well," he said.
"She said that she was in bed and heard a noise outside. She came to the window and saw the boy lying underneath the car.
"She rattled the window and he jumped out and ran away."
Justice minister David Ford said it was clear that dissident republicans had been behind the bombing attempt, and he praised the response by the police forces.
"We saw exceptionally good policing work, both overt and covert, by the PSNI and by the Garda Síochána (Irish police), which has now resulted in four arrests," Mr Ford said.
He added that he had spoken to PSNI Chief Constable George Hamilton on Thursday who, he said, has "concerns for the welfare of his officers".
"What is clear is that it was a device which was designed to kill anybody who was in the car and which had the capacity to also kill people who were passing it by - that's the reality of what these people tried to do."
Mr Ford met his Irish counterpart, Frances Fitzgerald, on Friday to discuss security after the incident.
The device was discovered at Glenrandel in Eglinton in the early hours of Thursday morning and 15 houses were evacuated.
The man arrested by the PSNI was taken to Antrim police station for questioning.