Londonderry alert: Four men arrested after Eglinton bomb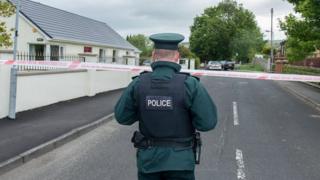 Four men have been arrested by police after a bomb was left under a PSNI officer's car at Eglinton near Londonderry.
At around 04:00 BST on Thursday morning, three men were arrested near Ballybofey in County Donegal in the Republic of Ireland.
The Police Service of Northern Ireland said they arrested a 27-year-old man in Eglinton later on Thursday.
The device was discovered at Glenrandel earlier in the day.
The man arrested by the PSNI has been taken to Antrim police station for questioning.
Police said the attack was a "clear attempt to murder police officers".
District Commander Mark McEwan said the wife of the officer concerned was also a member of the PSNI.
"This could have been a tragedy," he added.
"The target of focus of the investigation is dissident republicans.
"This officer serves the community day and daily. He keeps people safe. Someone has crept in and planted a bomb underneath his car.
"I have spoken with the officers and they are calm and dealing with it in a professional way."
Fifteen houses at Glenrandel in Eglinton were evacuated and army technical officers attended the scene. The road has now reopened to traffic.
'Shock'
The alert began at about 02:45 BST. Jennie Bell lives in Glenrandel and her elderly grandparents had to leave their home.
She said it was a "big shock wakening up to this news".
"My granny is recovering from cancer and my granddad has Parkinson's disease," she said.
"There are a number of elderly residents in the area. It is all going on outside our front door.
"We have been advised to stay inside. We have never had anything like this in Eglinton before."
The leaders of the four main churches in Derry have described the attack as "despicable, evil and reckless".
In a joint statement, Bishop Donal McKeown, Bishop Ken Good, Dr Robert Buick and the Rev Peter Murray said they were appalled and there could be no justification for attempted murder.
Foyle MP Mark Durkan condemned those behind the attack.
"These people are capable of using a viable device, but they don't actually have a viable political strategy, no coherent message and it is not what the community want," he said.
"Let's be very clear about the support and sympathy and solidarity that we are offering to the police officer concerned."
'Futile'
DUP MLA Gary Middleton blamed dissident republicans for the bomb.
"I condemn those who carried out this terrorism act and hope that they will be brought to justice," he said.
"This is a tight-knit, settled community and people here are left completely shocked and disgusted by this act."
Sinn Féin Councillor Paul Fleming described the attack as "wrong and futile".
"We are looking to the future and we will not be held back by those who want to drag us back to the past," he said.
"It's time these people caught up with the mood and wishes of the Irish people and abandon their activities."