NI budget: Arlene Foster introduces new budget bill in assembly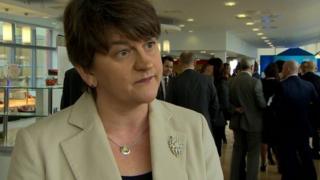 The Finance Minister Arlene Foster has introduced the Budget Number 2 Bill to the Northern Ireland Assembly chamber.
The first stage of the bill is a brief procedure lasting no more than a couple of minutes.
The bill will be debated and put to a vote when on it reaches its second stage on Monday next week.
It has been described as a fantasy or phantom budget as it presupposes the parties will be able to resolve their differences over welfare reform.