Asylum seekers to get free primary healthcare in Northern Ireland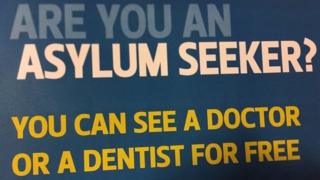 Asylum seekers in a legal limbo over their applications in Northern Ireland will now be able to receive primary healthcare.
Until recently those who were refused asylum, but were appealing, could only get emergency medical treatment.
The Department of Health said the change ensures access to healthcare at the most appropriate setting
It brings the policy in Northern Ireland into line with the rest of the UK.
Previously people who had been refused refugee status were not allowed to see a GP, a dentist or get prescriptions
The asylum seekers were still able to seek treatment at an emergency department.
The health committee approved the change earlier this year.
A destitute asylum seeker is someone who has had their refugee status refused and is either appealing the decision or the Home Office has decided it is not safe to return to that person to their home country.
Last year, a BBC Radio Ulster documentary, Nowhere to Go, highlighted some of the difficulties experienced by asylum seekers in Northern Ireland.
There are about 260 destitute asylum seekers in Northern Ireland.
Previously only people who were termed "ordinarily resident" were entitled to free healthcare.
If an asylum seeker had their refugee status refused they would lose their entitlement to healthcare. Their children would also no longer be able to receive some treatments.
In some cases the Law Centre NI say that babies were not able to receive vaccinations.
Liz Griffiths from Law Centre NI said asylum seekers "couldn't get a regular hospital appointment but they were entitled to A&E, so what that meant was they had to wait until a routine health condition deteriorated until it became a life threatening emergency".
Now any asylum seeker, regardless of status, can be treated by a GP.
Norma Nyamambi from Zimbabwe is a destitute asylum seeker.
She has asthma and was previously not able to see a doctor or get an inhaler, but was treated in intensive care after one particularly bad asthma attack.
"I'm so happy that the rules have changed, before it was not good," she said
"I was so scared when I had my attack, my asthma was so bad they thought I might die.
"Now I can get an inhaler and I can treat myself, My asthma is much better controlled now."
The previous regulations were challenged by the Law Centre NI, Red Cross and the Northern Ireland Community of Refugees and Asylum Seekers.
The three organisations gave evidence to the health committee to try to get the regulations changed.
Sinn Fein MLA Maeve McLaughlin, the chair of the health committee at Stormont, attended an event to celebrate the change in the law on Monday night.
In her speech, she said that there was a "real human side" to the discussion and that this was "one less worry for those waiting for a decision about their future".
A spokesman from the Department of Health said: "The Provision of Health Services to Persons Not Ordinarily Resident Regulations (Northern Ireland) 2015) provide for various exemptions from charges for certain types of health services and certain categories of visitor to Northern Ireland.
"These regulations now extend to primary medical services as well as secondary care services. The policy intention is to ensure access to healthcare at the most appropriate setting.
"The regulations also provide that asylum seekers are entitled to healthcare services in Northern Ireland on the same basis as a resident here."