Northern Ireland sight loss children 'need more help'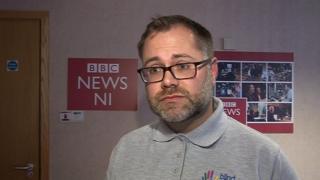 A charity has said parents of children with a visual impairment in Northern Ireland are struggling to get the specialist help to ensure their children reach their full potential.
Blind Children UK said that basic support is patchy and parents constantly worry about the future.
"We're calling on the government to implement the habilitation standards to bring us in line with their colleagues in England and in Scotland," the charity's Ian Baxter Crawford said.
"That will mean that parents would be able to look to a standardised service right the way across Northern Ireland.
"They'll be able to know what they can ask for, when they can ask for it and they will know that it will not be subject to a postcode lottery.
"We need that to happen as soon as possible."