NI fisheries staff move to new Downpatrick HQ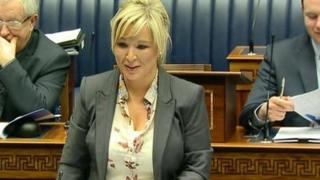 The Department of Agriculture and Rural Development (Dard) fisheries division has moved into its new headquarters in Downpatrick, County Down.
Fifty fisheries staff have relocated in the first part of a decentralisation programme that will see hundreds of civil servant jobs move out of Belfast.
Dard Minister Michelle O'Neill hailed the move as "an important step".
"I'm delighted that this first relocation project has been completed on time and on budget," she said.
"This move brings our department closer to the County Down ports of Ardglass, Kilkeel and Portavogie, which are amongst the busiest fishing ports in Ireland, with my fisheries team now at the hub of the fishing industries."
The new fisheries headquarters is based in Downpatrick's Downshire Civic Centre and will begin operating from there on Monday.
Ms O'Neill said the move "will also deliver an economic boost to the town as well as have the potential to attract further public sector jobs".
She said that "good progress" was being made on other decentralisation projects.
Under the programme, DARD's headquarters will move to Ballykelly, County Londonderry, forestry staff will move to Enniskillen, County Fermanagh, and Rivers Agency to Cookstown, County Tyrone.
"Across the four projects, hundreds of civil servants will be coming to work, shop, eat and enjoy leisure pursuits in rural towns whilst, at the same time, helping to create many more additional service and supply jobs and secure existing employment," Ms O'Neill said.