Patrick Farren jailed after asking salon staff to dance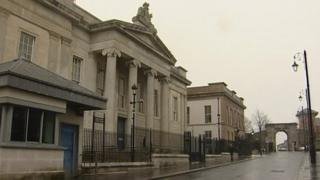 A Londonderry man with almost 200 convictions has been jailed after he persistently asked staff in a hairdressing salon to dance with him.
Patrick Farren, from Stoneburn Place in the city, admitted making a "nuisance of himself" in the Church Brae salon.
Staff called the police and Farren also admitted verbally abusing officers when they arrived. The 53-year-old was then arrested for disorderly behaviour.
The judge at Londonderry Magistrates Court jailed him for nine months.
Farren, who has 195 previous convictions - 100 of them for disorderly behaviour - was detained by police after the incident on Thursday.
The court was told that he had been given suspended jail sentences on Saturday and on Monday of this week for similar offences.
The judge said that given the accused's extensive record of relevant convictions he had no alternative but to send him to prison.