Paying for sex becomes a crime in NI as new law comes into effect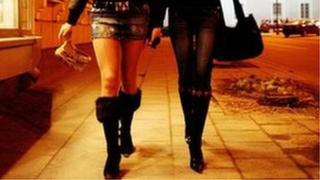 Legislation making it a crime to pay for sex has come into effect in Northern Ireland.
Last year, Northern Ireland became the first part of the UK to pass legislation making the purchase of sexual services illegal.
Anyone caught breaking the new law could face up to a year in prison and a fine of £1,000.
Assembly members voted by 81 to 10 in favour of the measure, brought by the DUP peer Lord Morrow.
Supporters said it tackled one of the main drivers behind human trafficking.
Opponents included Justice Minister David Ford who claimed it would be difficult to enforce.