NI lamb trade 'caught in perfect storm'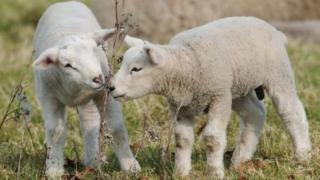 Northern Ireland's lamb trade has been caught in a "perfect storm" of currency exchange and new EU labelling rules, a Stormont committee has been told.
The agriculture committee heard the price of an average lamb was down to around £80 a head from £105 last year.
They were told half the price difference was down to the weakness of the euro.
This makes Northern Ireland lamb expensive for meat processing plants in the Republic of Ireland.
Almost half of Northern Ireland lamb is sent across the border for slaughter.
New EU labelling rules had further depressed prices, though they had recovered in recent weeks.
Representatives of the National Sheep Association briefed politicians at the assembly on Tuesday afternoon.
Spokesman Campbell Tweed said that while the price paid to farmers had come down, consumers were still paying the same price.
He suggested that meat plants in the Republic of Ireland might be using the labelling issue as a "convenient excuse" to pay less for Northern Ireland lamb.
"The drop in volume (of exports) might have occurred before the introduction of the labelling, but the drop in price certainly happened after.
"We've seen the price come up in two successive weeks now. We're still not back up to where we should be but at least we're in a better position than we were."
Under the new EU labelling rules, if an animal is reared in one EU member state and slaughtered in another, it should carry an origin label reflecting that.
Agriculture Minister Michelle O'Neill has been in discussion with her counterpart in the Republic of Ireland, Simon Coveney, in an attempt to resolve the issue.
One option being looked at is a voluntary labelling scheme that would see the lamb marketed as an all-island product.
Mr Tweed accepted that the department was "doing its best" to sort the problem out.