Balmoral Show in Lisburn expected to attract 90,000 visitors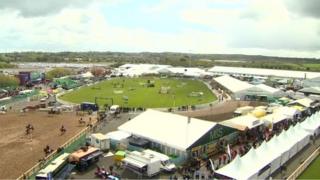 It is the most important fixture in Northern Ireland's farming calendar.
The annual Balmoral Show is expected to attract 90,000 people over three days starting on Wednesday.
With scores of livestock competitions and 600 trade stands, it is an opportunity for our most important industry to showcase itself.
It is the 147th year of the show, the third since it moved to its new home at Balmoral Park at the Maze near Lisburn.
And this year it is 10% bigger.
As well as being a platform for animals and agriculture, it is also the place where the agri-food industry can display the best of local produce.
And all this at an important time, when Northern Ireland producers are trying to get into new markets in Asia and elsewhere.
'Under pressure'
The Balmoral Show is also a time for farmers to come together and assess the state of the industry.
Milk prices are still depressed, as they have been for almost a year now.
Sheep farmers are also under pressure due to a "label of origin" issue that has cut the amount of Northern Ireland lamb being bought by meat plants in the Republic of Ireland.
A weak euro that makes Northern Ireland exports expensive in the eurozone, is also creating a challenging environment for farming and food businesses.
Ulster Farmers Union deputy president Barclay Bell said "most sectors are under pressure".
"It's external factors that are now influencing our end prices," he said.
"Something happening in New Zealand or China is having a big effect on our end prices and it's becoming more difficult to handle.
"But Balmoral is still the biggest show in town.
"When people go to Balmoral they nearly forget their problems - they can talk farming and catch up with their neighbours," Mr Bell added.
"It's the place to share your troubles and move on."
'Happy cows'
Balmoral has a number of new attractions this year. Amongst them is an automated milking system and 40 self-milking cows.
The animals from Drayne's Farm near Lisburn are milked at their leisure.
Michael Drayne from Drayne's Farm said the system made for efficient milking and happy cows: "They are more relaxed and have the freedom of choice to be milked at any time of the day or night."