Polish man's house attacked in Tiger's Bay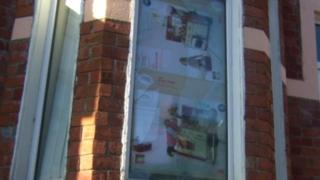 A window of a Polish man's house in north Belfast has been smashed in what police say is a suspected hate crime.
It follows two similar incidents in recent days on the same street, Mountcollyer Avenue in Tiger's Bay.
A man who lives in the house said: "I noticed my window was broken so I went outside and saw two guys walking towards North Queen Street.
"They were quite relaxed and without any embarrassment - they were wearing hoodies so I couldn't see their faces."
Police have said "initial investigations indicate that the crime is hate motivated".
"Hate crime is unacceptable and I appeal to anyone with any information relating to this particular hate crime, please contact York Road police on the non-emergency number 101," a police spokesman added.
On Monday night, a group of men attacked two houses and threatened residents at the street in what police described as a racially motivated hate crime.
Windows in two of the houses were smashed with bricks and one man was reported to have been carrying a pick axe.