SDLP changes stance on MLA pay rise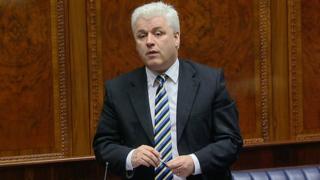 SDLP assembly members have taken a pay rise after publicly saying it would be plain wrong to accept the money, the BBC's Nolan show has revealed.
An independent financial review panel recommended a cut in MLAs' office expenses in 2012, while increasing their pay by 11% .
SDLP assembly member Fearghal McKinney said the party's MLAs have now taken the pay rise to offset the cut.
He said if they had not, jobs would have been lost.
"We got cut by (£)6,000 - it began to bite and it began to bite very, very hard," Mr McKinney said.
"The pay review body turned round to us and said 'read our lips, you're getting no more money from the 6,000, in fact you're getting another £1,000 cut next year'.
"'Now there's a pot of money over there that you can use to save those jobs'."
In 2013, 13 SDLP representatives refused a £5,000 increase in their MLA salaries, becoming the only party that did not accept the money.
Party leader Alasdair McDonnell does not receive a salary from the Northern Ireland Assembly because he is also a Westminster MP.