Dunnes Stores staff on strike in Republic of Ireland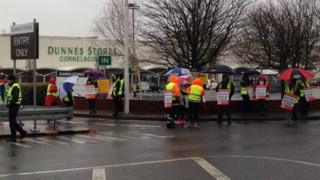 Thousands of staff at Dunnes Stores have been taking part in a one-day strike over low-hour contracts, job and income security and the right to trade union representation.
John Douglas, the general secretary of the Mandate trade union said over 6,000 of the union's members were taking part in the strike.
The industrial action affected 109 stores in the Republic.
Dunnes said the strike could harm the company and lead to redundancies.
Mr Douglas told RTÉ's Morning Ireland that his members were seeking certainly on how much money they would earn week-to-week.
"There are over 6,000 workers on strike this morning in a fight for decent pay and decent conditions of employment," he said.
"That's all these workers want.
"At the moment, 80% of Dunnes Stores workers haven't a clue, beyond 15 hours, how many hours they are going to work from week-to-week. So, you can't plan your life, you can't plan your future and there's no financial security and it's unfair."
The Mandate union has accused Dunnes of refusing to negotiate with them or attend the Labour Court.
Pickets were held at Dunnes Stores across the Republic of Ireland.
The Dunnes staff have had support from politicians from across the political parties in the Republic of Ireland, including Taoiseach (Irish prime minister) Enda Kenny who has backed their right to clarity regarding their working lives.