Belfast mayor: Arder Carson is new mayor of Belfast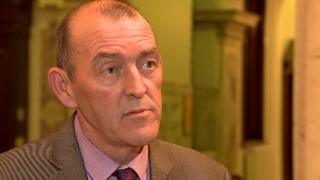 Sinn Féin councillor Arder Carson has been elected as the lord mayor of Belfast City Council.
Mr Carson represents Upper Falls and will take up office on 1 April when the new Belfast City Council comes into being.
DUP Councillor Guy Spence has been elected as the new deputy mayor of the council.
The SDLP's Nichola Mallon is the outgoing lord mayor of Belfast.