Election debates: DUP says NI omission is 'outrageous'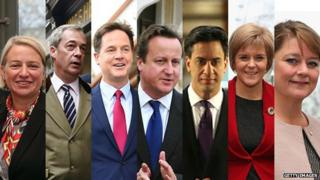 The Democratic Unionist Party has said it is "outrageous" that Northern Ireland parties have been omitted from the latest UK TV election debate plan.
After weeks of controversy over the format of the debates, UK broadcasters have announced a deal has been reached on a series of pre-election broadcasts.
The deal will see Prime Minister David Cameron taking part in a single live TV debate with seven UK party leaders.
The DUP, the fourth largest party at Westminster, is not among the seven.
'Excluded'
Its leadership had previously threatened legal action over the omission, because the DUP has more MPs than four of the seven parties invited to debate, including the Scottish National Party and Plaid Cymru.
Reacting to confirmation of the deal on Saturday, DUP leader Peter Robinson, tweeted: "Outrageous that BBC has excluded NI from debates whilst including smaller parties from Wales and Scotland."
Mr Robinson, who is the first minister of Northern Ireland, said he would be speaking to the BBC about the decision on Monday.
The BBC has previously said it could not include "just one" party from Northern Ireland in election debates.
Ultimatum
The corporation said it will ensure fair representation of the Northern Ireland parties in the run up to May's general election, to ensure impartiality.
The single live debate with the seven party leaders will take place on ITV on 2 April.
It means the prime minister, who had issued an ultimatum to broadcasters saying he would take part in only one TV debate, will not debate head-to-head with Labour leader Ed Miliband.
However, Mr Cameron and Mr Miliband will take part - separately - in a 90-minute live question and answer programme on Channel 4 and Sky News on 26 March.
'Kowtowed'
On 16 April, the BBC will broadcast a debate involving five opposition party leaders - Mr Miliband, UKIP's Nigel Farage, SNP leader Nicola Sturgeon, Natalie Bennett from the Greens and Plaid Cymru's Leanne Wood.
Two weeks later, Mr Cameron, Mr Miliband and Liberal Democrat leader Nick Clegg, will take part in a BBC Question Time programme presented by David Dimbleby.
The UKIP leader, Mr Farage, also criticised the broadcasters and tweeted: "They've kowtowed to manipulation from Downing Street."