Man in court over Sloan Street, Lurgan bomb find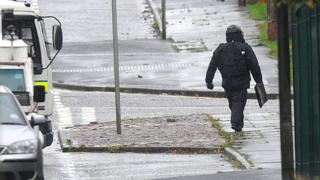 A 44-year-old man has appeared in court charged with terrorism offences.
James Seamus McGuigan, 44, from North Street, Lurgan, is charged with possessing a mobile phone and SIM cards for a terrorist purpose and preparing a terrorist act.
The charges are connected to a bomb found on Sloan Street in the County Armagh town on 18 October 2013.
An application by Mr McGuigan's solicitor for bail for his client was refused.
A police officer told Craigavon Magistrates' Court he believed he could connect Mr McGuigan to the charges.
He described him as a "dissident republican" and outlined how a mobile phone had been strapped to the bomb so that it could be detonated remotely.
The officer claimed that police investigations indicated that terrorists had tried to detonate the bomb, placed beside a special needs school, four times before calling Craigavon Area Hospital to issue a bomb warning, claiming to be from the Real IRA.
That call resulted in the school, another nearby primary school and several homes being evacuated.
The court heard that when the device was examined by Army bomb experts, it was described as a "viable explosive device".
The officer claimed Mr McGuigan could be linked to the incident as a SIM card used in the efforts to detonate the bomb originated from him and that his fingerprints were also found in the phone box in the Seagoe industrial estate that had been used to call the hospital.
He also told the court police were "strongly objecting" to Mr McGuigan being released on bail amid fears that he would reoffend or abscond and was a risk to the public.
A solicitor for Mr McGuigan said that despite the police officer's description of his client as being a dissident republican, he was not charged with membership, had "strong ties" to the area so was unlikely to abscond.
He also told the court that at the time, Mr McGuigan had owned 18-20 mobile phones so could not remember which one he had been regularly using.