Stormont crisis: Talks over welfare reform to resume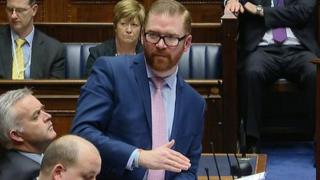 Talks aimed at resolving the stalemate over welfare reform legislation are expected to resume at Stormont later.
Sinn Féin withdrew its support for the bill last week.
Finance Minister Simon Hamilton said on Monday no additional money could be allocated to resolve the current impasse over welfare reform.
He said any resolution would be on the basis of the £90m per year previously set aside for welfare reform mitigation measures.
The Northern Ireland parties have held a number of meetings to resolve the impasse, but no agreement has been reached yet.
The Chancellor warned Northern Ireland's political parties on Wednesday that they must reach agreement on welfare changes if they were to get power over corporation tax.
George Osborne made the comments in his final budget before the general election in May.
The Northern Ireland parties had agreed a deal on Westminster's welfare reform in the Stormont House Agreement in December.
The issue had previously threatened the future of the Northern Ireland power-sharing executive.
Last week, Sinn Féin withdrew support for the bill and accused the DUP of going back on what had been agreed.
The DUP rejected this, saying there had never been the money for all the things Sinn Féin wanted and that Sinn Féin had been aware of this.