Election 2015: DUP leader rejects election pacts are anti-democratic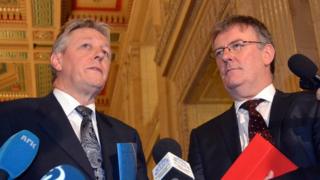 Northern Ireland's First Minister Peter Robinson has rejected criticism that electoral pacts are anti-democratic.
The Democratic Unionist Party and the Ulster Unionists have agreed to back each other's candidates in four constituencies.
They are North Belfast, East Belfast, Fermanagh and South Tyrone and Newry and Armagh.
It was described as anti-democratic by Alliance MP Naomi Long, but Mr Robinson dismissed her remarks as "hypocrisy".
"All it shows is the level of hypocrisy in the Alliance Party because they did exactly that in 2001 when it withdrew in order to depose Bob McCartney," he said.
"So its all right for them, perfectly democratic when they do it, but when anybody else does it it's anti-democratic."
The deal between the DUP and UUP means there will be a single candidate from the two parties.
The DUP will step aside in Fermanagh and South Tyrone for the UUP's Tom Elliott and for Danny Kennedy in Newry and Armagh.
The UUP will step aside for the DUP's Gavin Robinson in East Belfast and Nigel Dodds in North Belfast.
The DUP leader denied that the deal further entrenched sectarianism in politics in Northern Ireland, arguing that his party and the Ulster Unionists were entitled to take forward their political message by making the best use of their votes.
Mr Robinson also said he did not believe that a unionist pact in Fermanagh and South Tyrone -a seat Sinn Féin held in 2010 by a margin of just four votes - would lead to a surge in support for nationalist parties.
'Difference in style'
"We have had experience of pacts in the past and that isn't the outcome," he said.
"If you look at pact we had in Mid Ulster it brought out more unionist than at any time before and maximised the unionist vote.
"In Fermanagh and South Tyrone it brought us within four votes of winning the seat the last time round so I think there is ample evidence to suggest that the unionist community actually want unionists to be working together and to ensure that they have proper representation at Westminster."
Mr Robinson admitted that with an electoral pact in just four of the constituencies, there will be other seats where both the DUP and UUP will be fielding candidates.
"Of course there's a difference in style, there's difference in personalities but in policy terms, I think people are stretching themselves to find any major difference between the two parties," he said.
'Power bloc'
When asked if he ever saw the day when there would be a single unionist party or a DUP-UUP merger, Mr Robinson said he was not sure that it would ever happen.
"I would like it to, I think that there is a good case to be argued for ensuring we do have that really strong power bloc in Northern Ireland because the SDLP has not been able to hold off the rise of Sinn Féin and is being depleted," he said.
"I think we need to match that on the unionist side to make sure that a minority republican party in the overall sense does not become a majority party in Northern Ireland, becoming the main party with the major voice."
'Blip'
Mr Robinson said he was confident the DUP could win back the East Belfast seat he lost in 2010 to Alliance's Naomi Long.
"I think everybody knows that the election in 2010 was a blip, that by 2011, the electorate showed very clearly and substantially that they were voting for the Democratic Unionist Party.
"I topped the polls with the largest vote in Northern Ireland. People seem to leave that out when they're talking about the 2010 election.
"Again in the election for the local government councils, the DUP was beating the Alliance Party out of sight, so electorally since 2010, we have shown we're back there, the polls have shown that."
'Interesting contest'
The UUP's Fermanagh and South Tyrone candidate confirmed that UUP had proposed a pact in South Belfast as well, initially asking for support in return for stepping aside for the DUP in East Belfast.
However, Mr Elliott told BBC Radio Ulster's Evening Extra programme that the South Belfast seat did not form part of the final deal.
"The DUP appear to believe they can win it," the UUP MLA said, adding the South Belfast vote would be "an interesting contest".
In recent weeks, DUP minister Arlene Foster said she believed that only a "unionist unity" candidate - a person outside both her party and the DUP - could win the Fermanagh and South Tyrone seat from Sinn Féin.
"It's no secret that I believed that was the best way of taking the seat. As you know on the last occasion we came within just four votes of taking the seat back for unionism," Mrs Foster told BBC Newsline on Wednesday.
"However, it's part now of a wider deal and I hope that [Tom Elliott] does take the seat back for unionism because certainly nobody will be more pleased than I to see an end to absenteeism, in terms of our Member of Parliament, and to have a unionist represent this constituency."