Aston Martin LM19 Ulster car to be auctioned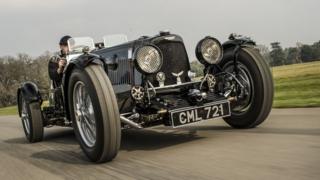 Auctioneers say an Aston Martin sports car modified for racing in Northern Ireland in the 1930s could fetch a price of more than £2m.
The LM19 Ulster car is one of a series of cars that were produced to take part in the gruelling Le Mans 24-hour race.
This particular model was modified to be eligible to compete in the Ards TT race, an event that brought the world's leading drivers to County Down every year between 1928 and 1936.
These cars were named Ulster following a particularly successful race at Ards in 1934.
Drivers would take on a 13-mile triangular circuit going from Dundonald to Newtownards, then Comber, and back to Dundonald.
On the fastest section of the course between Newtownards and Comber, the cars reached speeds in excess of 120 mph.
Each race could last up to six hours, in front of up to 500,000 spectators.
The event came to a tragic end in 1936 when a driver lost control of his car approaching the Strangford Arms in Newtownards and slid into the crowd, killing eight spectators and injuring 15.
The spirit of the race has been revived by the Circuit of Ireland rally, which will again feature an Ards TT Special Stage inspired by the original race. About 140 cars will race along the circuit on Good Friday.
However, the owners of the Aston Martin LM19 Ulster car would be unlikely to risk their prized possession in a modern-day race.
Auctioneers Bonhams say it is expected to fetch a price between £1.6m and £2.2m in June at its Goodwood Festival of Speed sale.
Its director of motoring, James Knight, says the car is in "fine condition" and has been owned by the same family since 1969.
"It is a veteran of the three blue-riband sports car events of the day - the Le Mans 24-hour, the RAC TT and the Mille Miglia, with the additional cherry on the cake being the 1936 French Grand Prix outing," he says.